Partnering with Cell Guidance Systems
We have an open approach to innovation and partnering.
The therapeutic potential of proteins is undermined by their instability. In particular, instability critically limits the potential of growth factors in regenerative medicine. PODS® technology addresses this problem by readily generating highly stable, injectable micro-crystals of a desired protein. Dissociation of crystals and slow release of bioactive proteins is subsequently achieved by the action of specific proteases or by pH adjustment (to >pH9).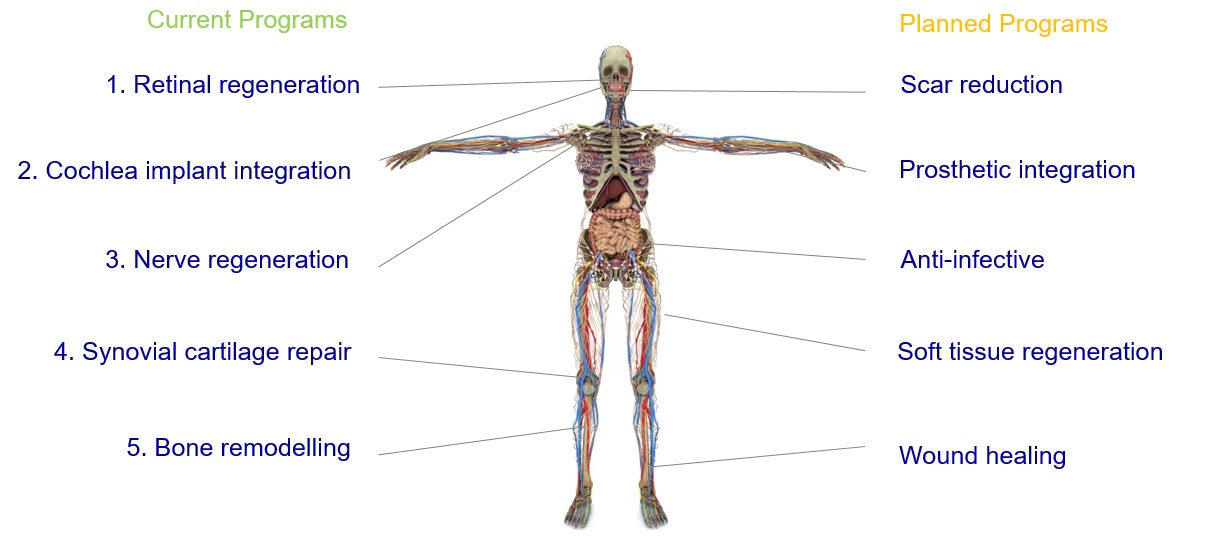 PODS® crystals have multiple benefits:
The duration of a target tissues exposure to a protein's therapeutic effect is increased (weeks and months - instead of hours and days).
Protein concentrations required are lowered by several orders of magnitude, reducing the scope for both on-target and off-target toxicity.
Surfaces and biomaterials (e.g. scaffolds) can be functionalized (by incorporation during manufacture or coating).
Proteins can be stored, even in a gel or buffer, at ambient temperatures for prolonged periods.
Therapeutic programs and collaborations currently utilizing PODS® include:
Hearing Loss - Cochlear implant coating with a neurotrophin to promote implant integration (Otolaryngology, Northwestern University).
Osteoarthritis - BMP proteins for repair of articular cartilage (Orthopaedics, Cambridge University).
Blindness – Supporting survival and integration of transplanted retinal cells (Schepens, Harvard University).
Potential therapeutic applications include:
Bone remodelling
Nerve regeneration (e.g spinal injury)
Neurodegeneration
Soft tissue repair
Wound healing and scar reduction
Oral protein delivery to the lower GI tract
Anti-infectives
Immunotherapy
Cancer therapy
Medical device integration
PODS® technology expands the possibilities and applications for proteins in research, diagnostics and therapeutics.
If you are developing an application and would like to partner with us, please get in touch